Estate and Agent partners with Kingston Foodbank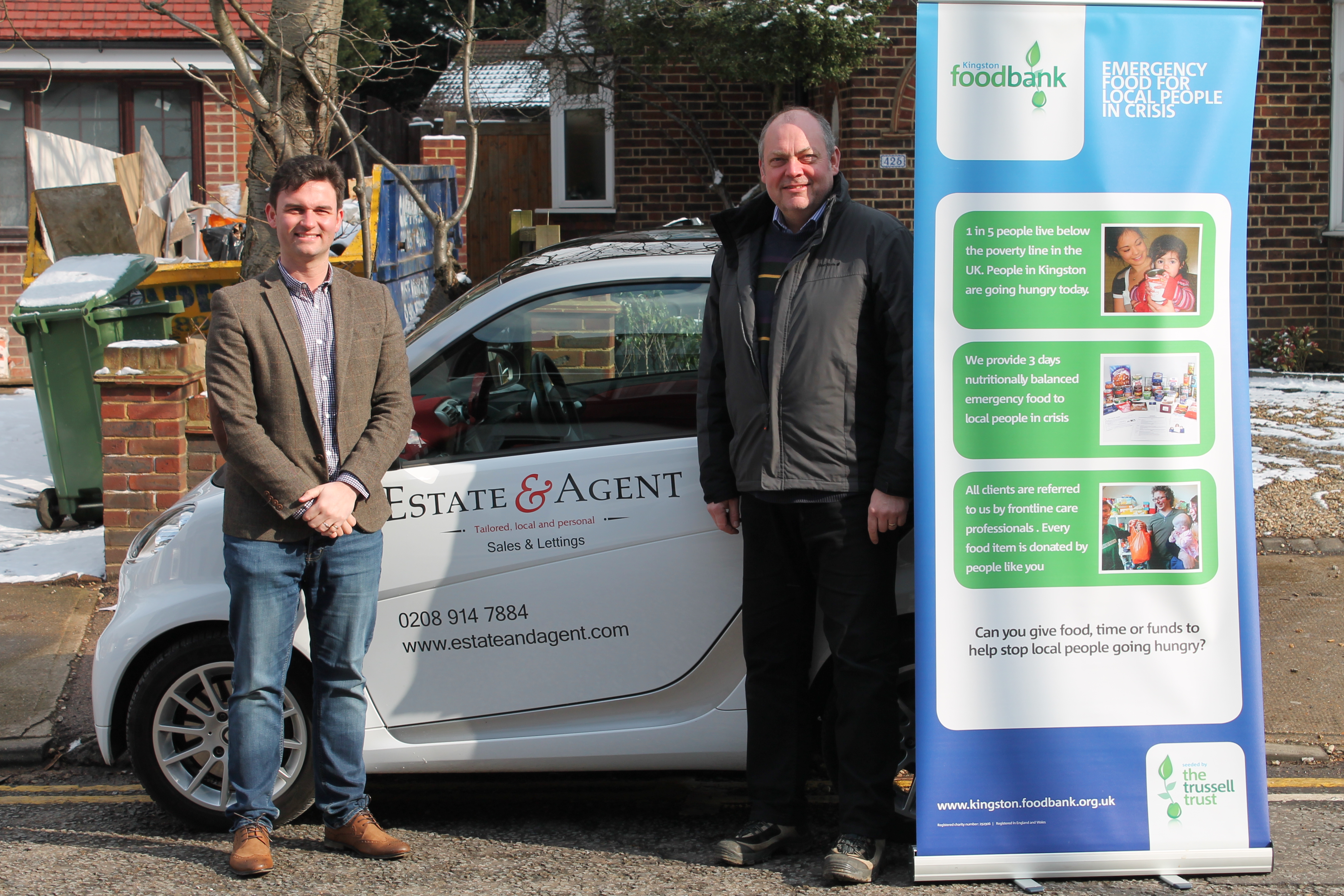 Estate and Agent is proud to announce its' partnership with Kingston Foodbank.

Estate and Agent, a residential sales and letting agency based in Hampton Wick, close to Teddington and Bushy Park, has partnered with Kingston Foodbank and is offering to collect unopened, in date, non-perishable food from vendors when they move.

Once a successful offer is accepted, David Tall, founder of Estate and Agent will provide his clients with a box that they can keep to one side and use to store any food they plan to donate, rather than throw it away. Then before they move home, David will collect the food box and deliver it to Kingston Foodbank on their behalf.

It is hoped that this will help homeowners when they are moving as well as making a positive impact for those who use Kingston Foodbank's services.

David Tall, Owner and Manager of Estate and Agent said:

'As a residential agency, Estate and Agent has regular contact with the local community - particularly home owners, who are going through the process of selling, and while they are sorting out their kitchen cupboards, this provides an ideal opportunity to assist them in donating their unopened, in date, non-perishable food, as well as helping to make a difference for the local community.'

Founded by local churches and community groups, Kingston Foodbank is working towards stopping hunger in the local area and is part of a much wider nationwide network. Originally set up in 2004 by The Trussell Trust, the network has grown from its' one original foodbank in Salisbury to 428 foodbanks across the UK. In 2016/17, The Trussell Trust's Foodbank Network provided 1,182,954 three-day emergency food supplies and support to UK people in crisis. Of these, over 430,000 went to children.

Kingston Foodbank operates from six locations across the area including Kingston upon Thames, Surbiton, New Malden, Tolworth and Chessington - further details of locations and opening times can be found here: https://kingston.foodbank.org.uk/

Paul Pickhaver from Kingston Foodbank said:

'I love the creative ways that local businesses are finding to help local people in crisis. I'm delighted with what Estate and Agent are doing to support Kingston Foodbank - it makes a real difference.'

Estate and Agent is a recently founded residential sales and letting agency based in Hampton Wick, Kingston upon Thames and offers its clients very competitive fees whilst focusing on excellent customer service. It is ideally placed to support the foodbank, not just because of its location but also because of the nature of its work and a genuine ambition to help the community it serves.